stained hanes is the heavyweight champion of Queens Trash in a mask and the co-founder of Cars & Women Magazine.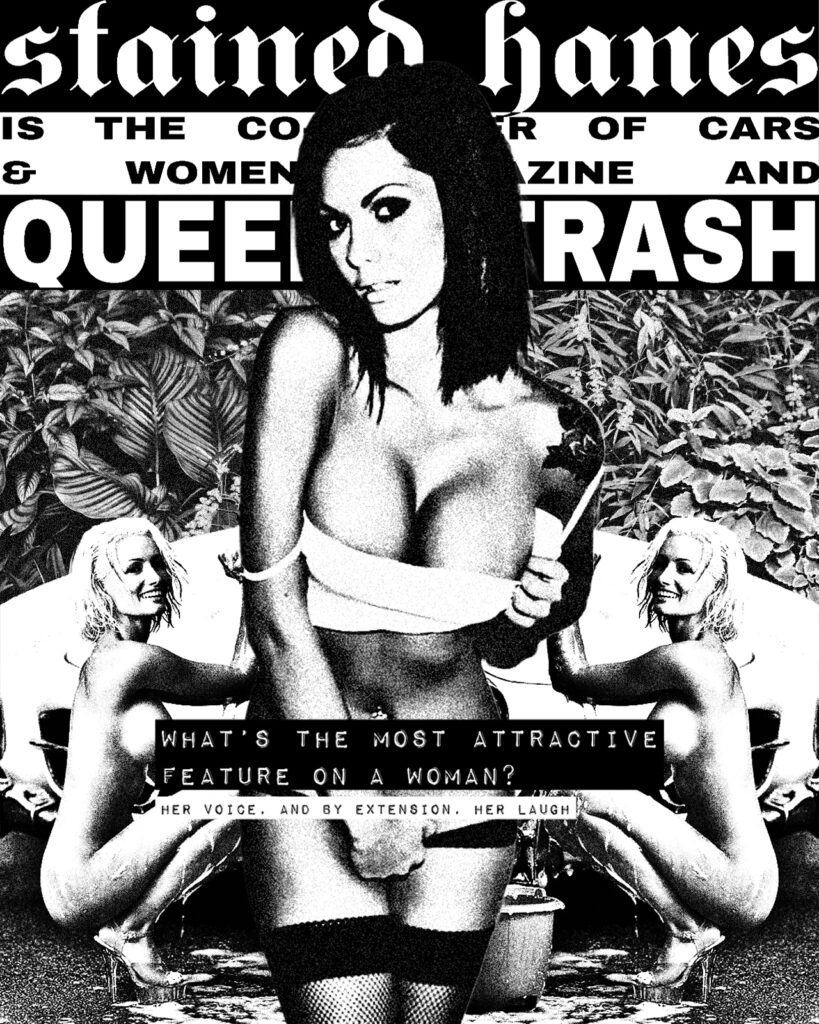 [The following is an excerpt from stained hanes Q&A in AMERICAN VULGARIA Magazine Issue #2…]
***
WHAT DOES A DAY IN THE LIFE OF STAINED HANES LOOK LIKE?
Lately it's been a lot more stenciling and working on a multimedia project with AoftheH that has been underway since last summer. But beyond that, it usually starts with coffee and work e-mails before work. Zoom calls with no pants on, going through submissions for Cars & Women Magazine while waiting for Google Docs to sync, and doing busywork in between that used to be neck deep in the fidelity, backbiting, and misery of high school cranked to 11 because of deadlines and a dress code. I work for a commercial insurance company so before every day I get on my knees and thank Chinese lung herpes for not only doing my job from home but on my desktop and not on some workbook graciously provided by my employer that records everything I do on and off the clock – from pretending to focus during quarterly earnings meetings to sloppy hookups and eating alone while staring at the wall during quiet moments of thought and private moments of reflection, and whatever it is people do during those and I imagine there are more sighs of resignation and hysterical crying jags barely kept at bay than most people will admit to. I have two 40 lbs dumbbells at home and I run, although I've been slacking on exercise recently and I really oughta get around to unfucking that. Lunch, dinner, and whatever I can fit in between and after – flyers, writing, working on the zine, recording, making and doing – sometimes with friends and fellow operators. Things coming down the pipeline I'm looking forward to seeing the light of day.
Is the mask fully integrated with your psyche or is this a Marilyn Monroe vs. Norma Jean situation?
It became part of it when I noticed the mask brings out people's emotional or mental default especially in public. Before then it was more of a way to keep a wall between my personal and private life, despite the membrane between online and meatspace being more or less gone these days. I have a job I don't hate so the mask helps with that, too. I'm not the only one — West Virginia's finest masked bastard Charles Khan wears a luchador mask. Queens' very own Detective Man – whose work has been featured in Cars & Women Magazine – can dress accordingly with the masks he's taken from people he's beat in the monthly kumite in Forest Hills, while Fetusberry Crunch hails from the Pacific Northwest like a bearded mountain in a tiger mask driving a forklift. A hundred of me with a hundred typewriters in a hundred years would've never thought there were other jerks out there rocking masks, let alone luchador masks. That was a pleasant surprise to be honest. So was wearing a suit with the mask, finally. I've always wanted to host a late night talk show. Hell, I'll settle on a bent n' dent store Space Ghost: Coast to Coast. I'll host the Wyoming state fair if they ask me, if its with the mask I'm almost guaranteed it'll be the most fun I'll have since the the last couple of most of my life. Even when its supposed to suck, its just great. A third of the people at the De Vere Winter Ball looking at me like I crawled out a septic tank and waltzed through the front door was like cookies for my soul. Everyone should go a day wearing a mask, not just ugly people. If you have a camera pointed at you in public you can get away with most things stopping short of robbing a bank. You'll learn and see things one usually doesn't, like when you play medic in TF2. Every zipcode has at least one guy in a mask.
What's your favorite car?
Ford LTD Crown Victoria Four-Door Sedan.
What's the most attractive feature on a woman?
Her voice and, by extension, her laugh.
On a man?
His silence.
[…to be continued…]
Read the full stained hanes Q&A in AMERICAN VULGARIA Magazine Issue #2: BUY now
Follow stained hanes: @stained_hanes
Read Cars & Women Magazine: queenstrash.com