Dakota Proctor is an artist living in North Carolina. Proctor puts his demons to work by creating electrifying portraits of figures real and imaginary with effects of wide-eyed horror, quiet sadness, schizophrenic paranoia, and manic obsession. Proctor is anti-propaganda and presents his work plainly in hopes of easing your life in this crowded, loud world.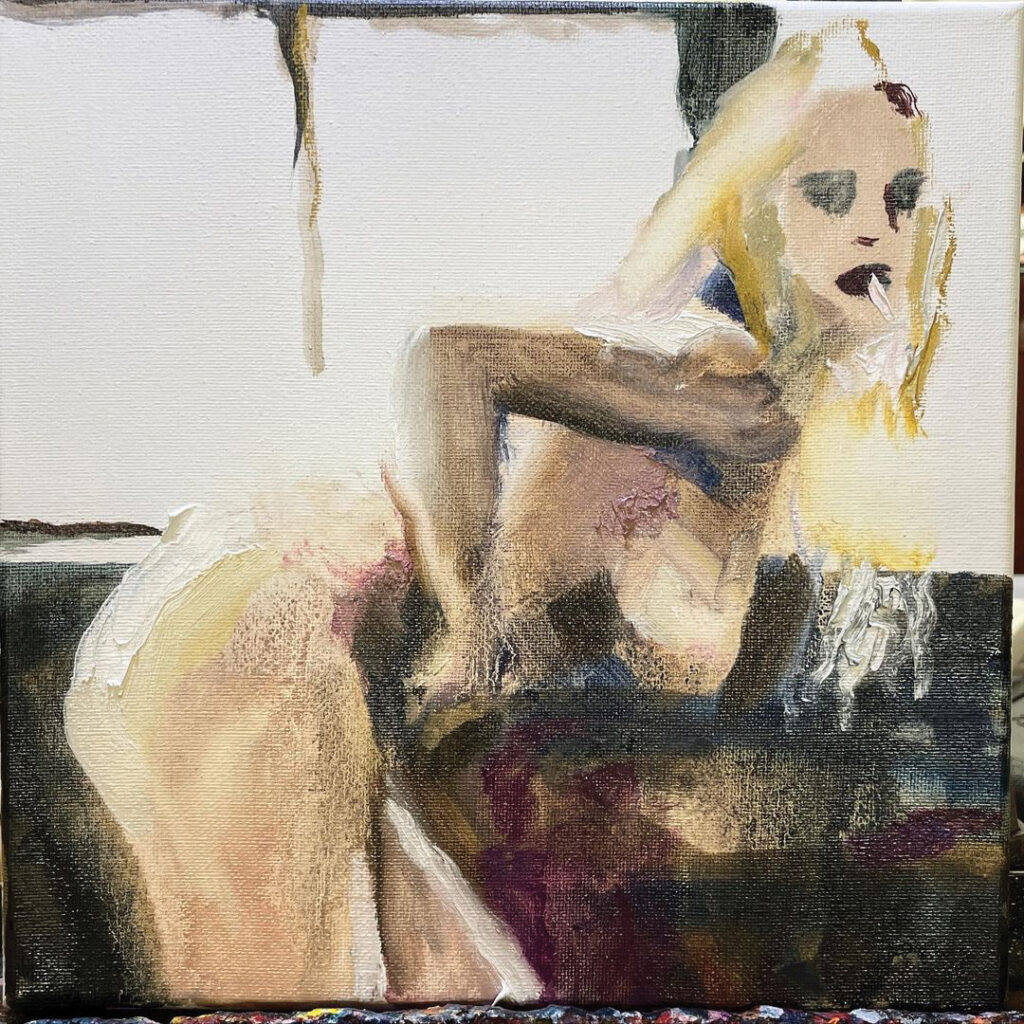 [The following is an excerpt from Dakota Proctor's Q&A in AMERICAN VULGARIA Magazine Issue #2…]
I HAVE TO KNOW: WHAT GETS YOUR WHEELS TURNING?
DAKOTA PROCTOR: I love my life. I get to titillate myself with my Instagram feed and turn it around and create physical media based off IG posts that tickle my fancy and play with my brain. People tell me that my art is extremely personal but I find that I don't feel like it's that personal or revelatory. But I think that comes from me just being in a habit of it and not thinking about what others will think when I put stuff out there. I'm making beautiful work that turns me on in one way or another, but I'm not ashamed of who I am. I think people should be more unhinged, unique, and weird. I think we could learn to live and let live if we could dismantle the discursive discourse around the taboo.
WHAT DOES A DAY IN THE LIFE OF DAKOTA PROCTOR LOOK LIKE?
DP: I'm a loner. I'm a huge reality tv junkie and I collect vinyl. I go to work at a bar and try not to stare too much at the hot people that come in. I spend time with friends and go out and drink from time to time. On off days I try to make it to the studio to paint, though lately I've been caught up with tracking my new record with my band. I've spent a lot of late nights with my guitar in my room softly writing songs and arranging melodies.
WHEN AND WHY DID YOU START PAINTING?
DP: I picked up drawing when I was living in Los Angeles. My cousin was very supportive of my design style early on and pushed me to explore it more. I quit my job at the time to focus on my Instagram, which is how I amassed my following initially. Eventually, I think my work got too explicit for Instagram and my follower count kind of capped off. I fell on hard times in Los Angeles and had to relocate to North Carolina. It was around this time I made a good friend in another artist who invited me over to paint with her. We tried oil painting together and my results were abhorrent. I was determined to figure out this complicated medium and stuck with it. When Covid hit I was out of work for a good four months where I painted every day. I took an online course on painting, which also helped my technical side develop. Now, I'm in an online discord with a prominent painter who pushes me to continue to develop my work and subject matter.
…to be continued…
Read the Full Dakota Proctor Q&A in AMERICAN VULGARIA Magazine Issue #2: BUY now
Follow Dakota: @plasticrepeater