Butterflies suck nectar for nourishment — this is true — but flowers are not all the butterfly eats. Despite their beauty, the butterfly has repulsive eating habits, as their diet includes, in addition to the flower, the excrement and decaying flesh of animal. Butterflies are salt-seeking insects. This is why they occasionally land on your head or shoulder — not because you look like a flower but because the butterfly craves the salt of your sweat and blood. In Eric S. Carlson's painting Elk and Butterflies, butterflies feeding on the flesh of a decaying elk carcass burst in an orgiastic cloud of color, redeeming the insect's repulsive consumption of death as a beautiful testament to the greater circle of life. Nourishing the butterflies, the dead elk is rendered alive, revivified by the necrophagous insects, echoing in cubic dimensions a real-life scene Eric trespassed upon while trail-running along Woods Gulch Trail near Missoula, MT. An elk carcass was liquefying in a spring-glazed snowbank when Eric ran past, disturbing the hundreds of butterflies consuming the elk. Alongside the carcass, fresh glacier lilies had begun to blossom, and the nearby creek was running strong with snow-melt. Life begets death, death begets life — a reminder that you can't spell "erotic" without "rot."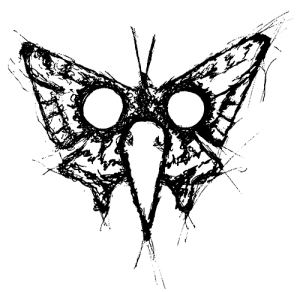 With the first issue of the AMERICAN VULGARIA Zine, aptly titled "The End," we celebrate our new beginning with two items on death: (1) the death of an elk carcass reborn as butterflies in a deep-dive feature on Eric S. Carlson's Elk and Butterflies, and (2) death personified as a suave lady-killer in a close-reading analysis of Emily Dickinson's famous poem "Because I could not stop for Death" — both written by Ryan Simón. Though the Elk and Butterflies feature makes mention of the coronavirus, much of what's written in these pages predates the official Covid-19 pandemic. But we feel this only highlights the perfectly eerie timing of our first issue: certainly the first half of 2020 — despite being a new beginning to a new decade — has felt tinged with a disturbingly dystopic quality. But we're all optimists here — let's see how this goes.
To see Eric S. Carlson's work, visit escillustration.com.